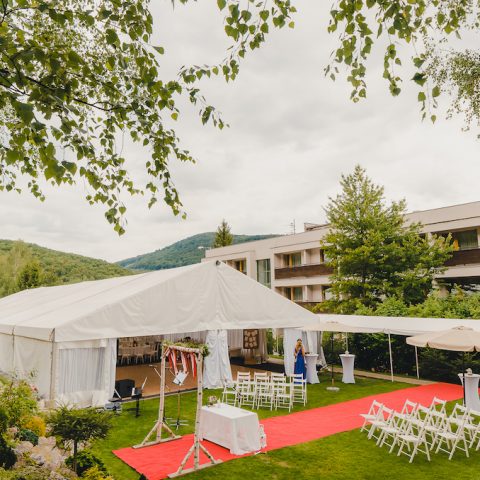 Live the most beautiful day of your life the way you imagine it
The tent is situated behind the hotel right next to the wedding still life, in which we perform civil ceremonies in the open air. The tent has variability in the layout of the tables and the dance floor.
Capacity is up to 200 guests at flat tables and 160 guests at round tables. The sidewalls of the tent are expandable, so we can open the whole space. But in case of bad weather, we can close the tent's walls and, if necessary, provide heating. We will decorate the tent in various styles, such as vintage, country, classic, and modern.
Are you planning your dream wedding? Say your "YES" in our romantic tent
Availability of wedding dates 2022 FRIDAYS
April
1
8
15
22
29
May
6
13
20
27
June
3
10
17
24
July
1
8
15
22
29
August
5
12
19
26
September
2
9
16
23
30
October
7
14
21
28
Availability of wedding dates 2022 SATURDAYS
| April | 2 | 9 | 16 | 23 | 30 |
| --- | --- | --- | --- | --- | --- |
| May | 7 | 14 | 21 | 28 | |
| June | 4 | 11 | 18 | 25 | |
| July | 2 | 9 | 16 | 23 | 30 |
| August | 6 | 13 | 20 | 27 | |
| September | 3 | 10 | 17 | 24 | |
| October | 1 | 8 | 15 | 22 | 29 |
Binding reservation
Preliminary reservation
Available dates
For more information contact us at 0910910236 or email buckova@hoteldam.sk